ElectroCat
ElectroCat is Sweden's first all electric street legal motorcycle and the first electric motorcycle to conquer Pike's Peak!
What is ElectroCat?
ElectroCat is an electric motorcycle. It was registered as a street legal vehicle in 2008 and became the first street legal electric motorcycle in Sweden. It is of course pure electric – gasoline is so last century!
ElectroCat was also the first electric motorcycle in history to finish the legendary Pike's Peak International Hill Climb (2010).
ElectroCat is based on a Cagiva Freccia C12R model year 1990 (an Italian 125 cc two-stroke motorcycle). Everything that belonged to the gasoline engine was ripped out (the engine itself, gear box, fuel tank, exhaust, radiator etc.) and was replaced with an electric motor, a controller and batteries.
ElectroCat was built by Eva Håkansson and her father Sven (who has, among many things, designed world class roadracing motorcycles). Sven is a technical genius and without him, the ElectroCat had never been born.
Picture: Sven Håkansson – champion rider, engine and motorcycle designer, technical genius and EV enthusiast – to mention a few things….
Picture: Eva in front of ElectroCat, December 2008. Nothing can wipe that smile off her face….
Why build an electric motorcycle?
We ask ourselves that too sometimes….
ElectroCat is not a commercial project. (I bet that you have heard the joke that the easiest way to make a small fortune on electric vehicles (EVs) is to start with a large fortune….) ElectroCat is a pure hobby project with the aim to show that it is possible to make electric motorcycles with good performance.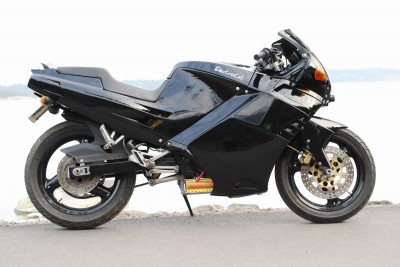 Specs:
Price tag: About $10,000 in parts…
Original motorcycle: Cagiva Freccia C12R, model year 1990 (original engine: 125 cc two-stroke, about 30 hp)
Motor: Mars ETEK-RT, permanent magnet DC motor (PMDC), direct drive with chain. In the first version, ElectroCat had a Briggs & Stratton Etek (the original!), but it couldn't take the current, so it "burned up" (it melted and fell apart). The Mars ETEK-RT is capable of 72 V and 300-350 A. http://www.motenergy.com/ (It is nowadays called "ME0709")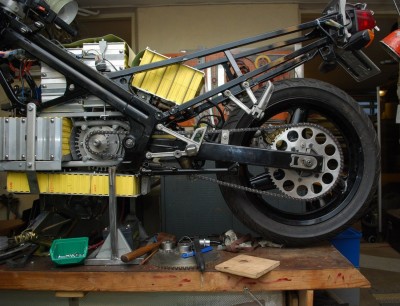 Picture: The building process. The motor on the picture is the Briggs & Stratton Etek that the bike had in its first version.
Controller: Current controller: Kelly KDH14601E,24-144V,600A with regen (not pictured). www.kellycontroller.com.
Previous cotroller (pictured): Alltrax AXE 7245 (capable of 72 V and 450 A). No regen (unfortunately). www.alltraxinc.com
Power: Nominal power 7.5 kW, but short time twice or more. It feels like the original motorcycle which had about 22 kW/30 hp.
Battery: Current battery pack (not pictured), A123Systems M1 cells. www.a123systems.com
Previous battery pack (pictured): 16 cells, Thunder Sky LFP 90 Ah (lithium iron phosphate – the safest lithium chemistry). Capable of 900 A. www.thunder-sky.com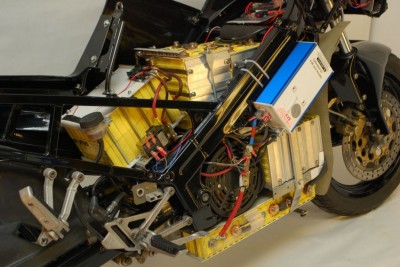 Picture: Thunder Sky litihum-iron-phosphate cells and the new Mars ETEK-RT motor. Note – no BMS wasn't fitted when the picture was takes. The white-blue box is the Alltrax AXE7245 controller.
Charging time: Depending on the charger and outlet, down to 0.5 hour with a large garage charger.
BMS (Battery Management System): Manzanita Micro www.manzanitamicro.com
Voltage: Nominal 105 V.
Total weight of the motorcycle: about 165 kg (363 lbs)
Top speed: The top speed is gearing dependent and can be over 100 MPH (160 km/h). Because it has a PMDC (permanent magnet direct current) motor, max RPM is decided by the voltage (this is characteristic for PMDC motors). With a PMDC motor, you therefore have to choose acceleration or top speed. There is enough power for higher top speed, but because it bike is slightly under-motorized, gearing for a higher top speed would cost too much acceleration and also give lower efficiency. 100 km/h is an acceptable compromise at the moment.
Range: About 80 km (50 miles) per charge at 70 km/h (44 mph).
Instruments: Speedometer (original, slightly over-optimistic ;-), ampere meter (military surplus a la 50-60'ies or so – really good stuff), volt meter, motor termometer and a CycleAnalyst. The CycleAnlyst (also known as DrainBrain) is a really nifty little thing that does everything I need: it counts Ah, measures voltage and current, calculates power, counting the distance, telling me the average Ah and Wh per km etc etc. And the price is very reasonable too! www.ebikes.ca/drainbrain.shtml
Lots of photos of the finished bike as well of the entire building process at http://photos.evahakansson.se