KillaCycle
KillaCycle™ is the quickest electric motorcycle in the world.
It has over 500 HP and accelerates 0-60 mph (0-96 km/h) in less than one second!
The secret of KillaCycle™? – The batteries!
The powerful A123 Systems nano-phosphate™ battery cells are what makes the KillaCycle™ go as fast as it does! The same battery cells are found in heavy duty cordless hand tools.
If you think about it, the KillaCycle™ is just a giant cordless drill with wheels!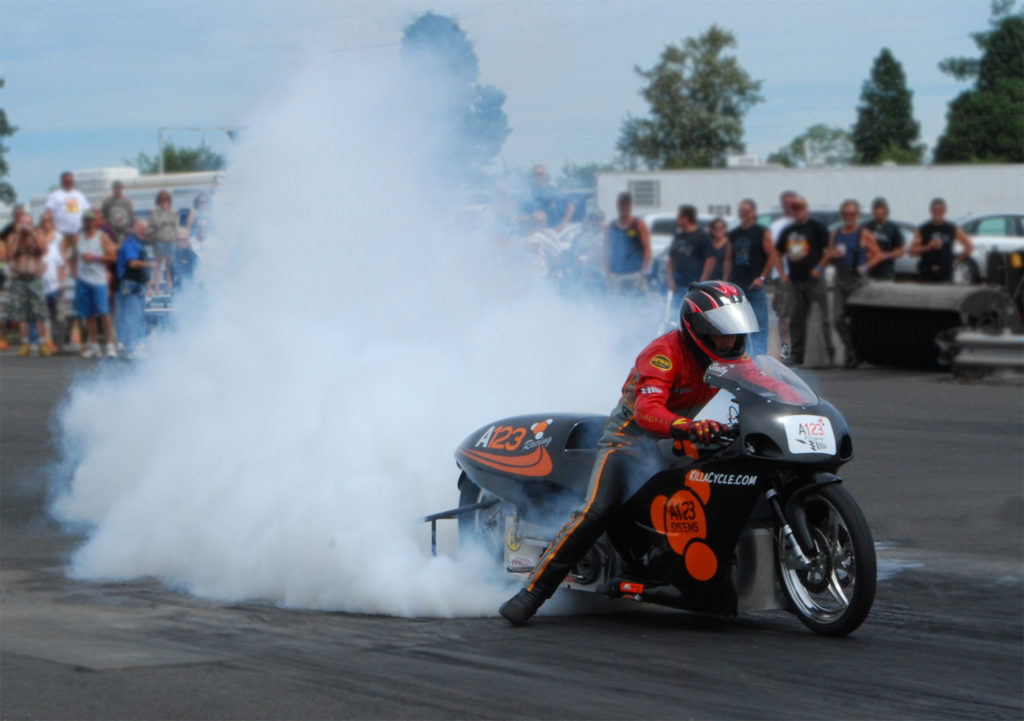 KillaCycle™:
• is the quickest electric motorcycle in the world.
• has since 1999 continuously set and broken its own world records.
• was the first electric vehicle to break the 8 seconds barrier in drag racing (November 2007)
• was the first electric powered vehicle of any kind to go over 150 mph in a ¼ mile (August 2000).
• as set more records on the drag strip than any other electric vehicle.
KillaCycle™ is the result of years of effort on the part of Bill Dubé, his sponsors and team members.
SPECS:
0-60 mph (0-96 km/h): 0.97 seconds
Acceleration: 2.89 G (almost 3 times free fall)
Best Top Speed in ¼ mile: 174.05 MPH
Lowest ¼ mile Elapsed Time (ET): 7.62 seconds @ 170.75 mph
Power: 640 hp
Battery: lithium iron nano-phosphate™ cells from A123 Systems
Battery voltage: 274 Volts. High-current cell interconnect tabs welded with Miyachi-Unitek equipment
Motors: Two DC series motors @ 87 lbs (40 kg) each.
Bearings: All of the bearings are supplied by NSK. The highest quality bearings are a must in drag racing!
Controllers: Two Cafe Electric Zilla2k-HV
Drive: direct chain drive on the rear wheel.
Charger: Manzanita Micro PFC-50, 12kW power-factor corrected, multi-voltage input
Tire: M&H Racemaster 10.0/27.0 – 15 MHR-68
Electricity consumption: 0.6 kWh, worth $0.07 for each run down the strip including the burn out. It corresponds to 2 ounces (70 ml) of gasoline.
Owner and lead engineer: Bill Dubé
Crew chief: Eva Håkansson
Riders: Scotty Pollacheck and Tracy Helmhold
KillaCycle™ is silent aside from the chain and some tire noise.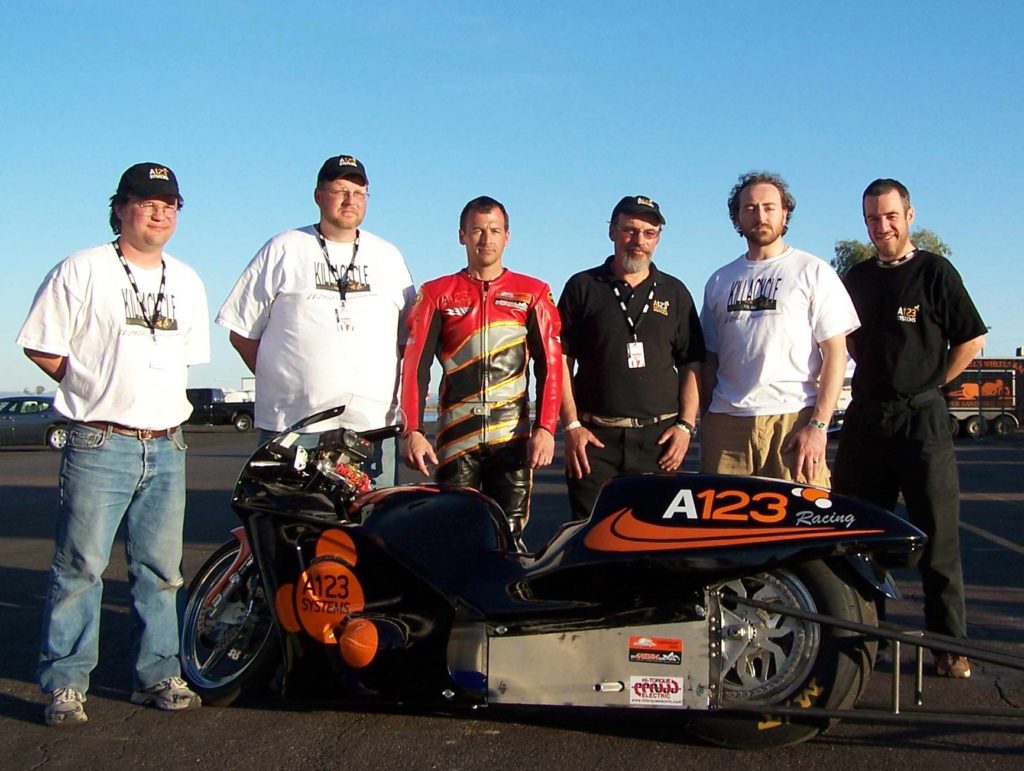 Picture: The original KillaCycle team.
From left to right:
Steve Ciciora, BMS Design, Electronics
Derek Barger, Electronics, CNC fabrication
Scotty Pollacheck, Rider, Tires, suspension set-up
Bill Dube', Owner, Lead Engineer
Jonah Myerberg, Battery expert
Scot Colburn, Electronics
(not pictured) Susan Lefebvre, Videographer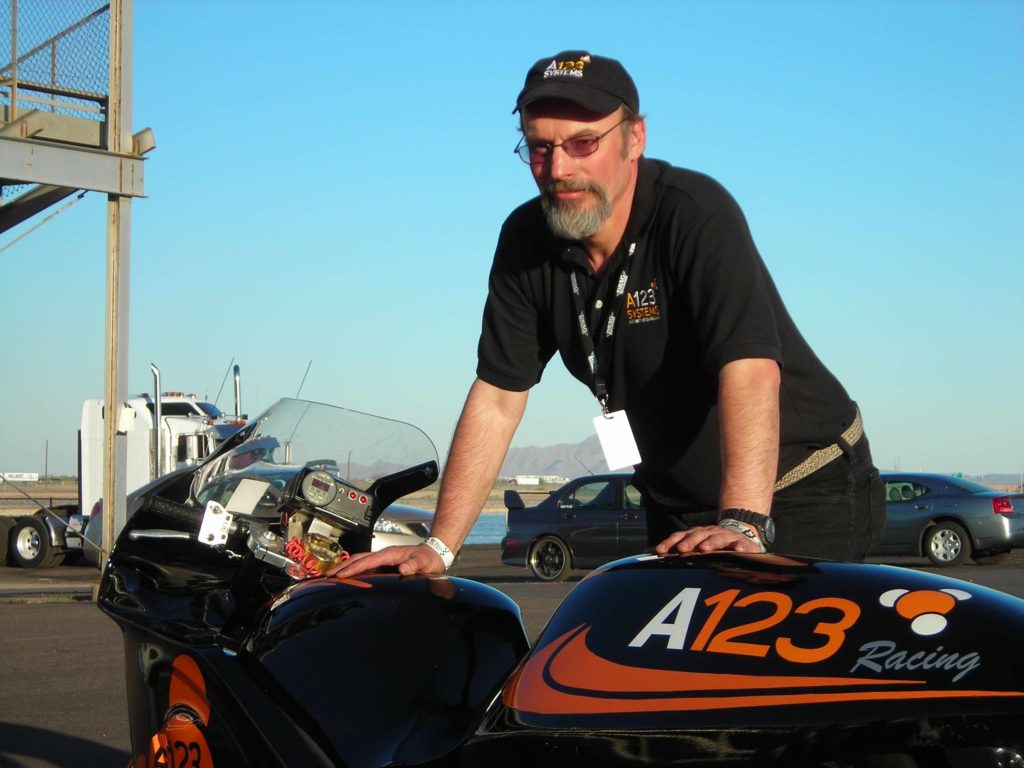 Picture: Owner and designer Bill Dube'. 
Don't forget to check out our great PARTNERS that made KillaCycle possible.